Become A Volunteer
VOLUNTEER OPPORTUNITIES

Whether you are a non-profit group, business/corporation, student activity group, church organization, or an interested citizen we can all make the season a little brighter.


Lights of the Northwoods Volunteer Structure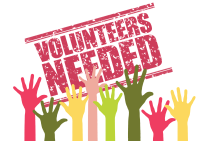 This is not going to be a one man show. At Lights of the Northwoods we are a GRAND COMMUNITY EVENT.
It is the collaboration of efforts of many groups from different areas of the community that will make this a great event.
There are as many ways to contribute as there are shapes of snowflakes such as volunteer opportunities, financial sponsorship (see Become a Sponsor), or both.
Questions regarding Volunteering (see Contact Us).

Volunteer Opportunities
Businesses/Corporations – Gather a team and man the gates for an evening. Do a good community service and get the night promoted as being "YOUR BUSINESS" night.
Non-Profit or Student Activity Groups – Set up a fundraiser that adds to and compliments the event. The funds raised by your organization STAY with your organization.
Church Organizations – Sponsor a Nativity Scene or just a tree, and anything else in between.
Interested Citizen (also applies to all above) – Help organize, set-up, run, and tear down the event.
NOTE: Lights of the Northwoods (as a private non-profit organization) reserves the right to review, approve, or deny participation for any reason to any and all volunteers, groups, and provided displays, materials, and/or all promotional materials for appropriateness in keeping in the spirit of the Holidays.